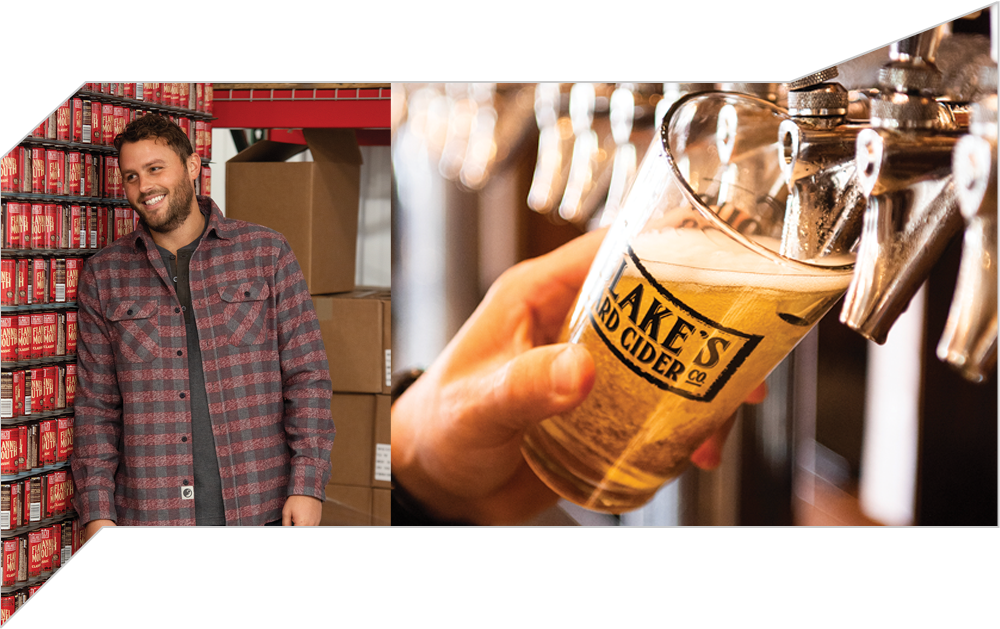 Down-to-Earth
By Rebecca Calappi / Photography by Mike Ferdinande
At age 32, Andrew Blake cuts a down-to-earth figure. Sporting a backward trucker hat, jeans, a Carhartt shirt and boots, he is every inch a farmer. But he's also a successful businessman and entrepreneur.
Growing up on a farm, with an orchard just outside his door, Andrew always knew he was going to blaze a new trail. Today, hes president of Blakes Family of Companies and the founder of Blakes Hard Cider.
In 2012, at age 23, Andrew approached his father and uncle, who head Blakes, about an idea hard cider.
In 2012, we had a freeze and no apples, recalled Blake. We needed something not seasonal with a shelf life. In college I was kicking around an idea for hard cider. I built a business plan and visited orchards and farms that made hard cider and I really worked to understand craft cider.
Going into the family business, which has been around for 75 years, Andrew also wanted something to call his own, something he built himself. So, Blakes Hard Cider was born of determination and YouTube.
I started by watching people making cider videos. I got to the point where I understood enough and started working on it in the garage. Then it was reading books and visiting people who were doing it at a commercial level, said Blake. People were very open to teaching me.
Today, Blakess Hard Cider is distributing in 21 states, with two states joining by the end of 2021. Th ats roughly 1.5 million gallons of hard cider. We are the fastest growing beverage in the state, said Blake.
Andrew said alcohol is the fastest growing aspect in the Blakes Family of Businesses, and no one saw it coming. The brand is active on social media and looks to consumers for feedback. In fact, new flavors frequently come from consumer ideas.
People buy with their tastebuds. You have to stay very true to that, he said. For me its been a lot of pride and excitement, but theres always someone doing most things better than you. Our organization was built on that. We strive for continuous improvement. We want to make sure our products are something you want to tell your friends about.
Next year, fans can expect an elevated version of Blakes classic hard cider. The original isnt going away, but the new series will be reminiscent of a bar cart, with cocktail-inspired flavor profiles. The alcohol content will be a little higher than the average 6.5%, and the price point will be a little higher as well.
No challenge is the same and thats a good sign that our organization is getting past some of the old issues, he said. I like seeing people evolve and the business evolve. Things get better, its fun.