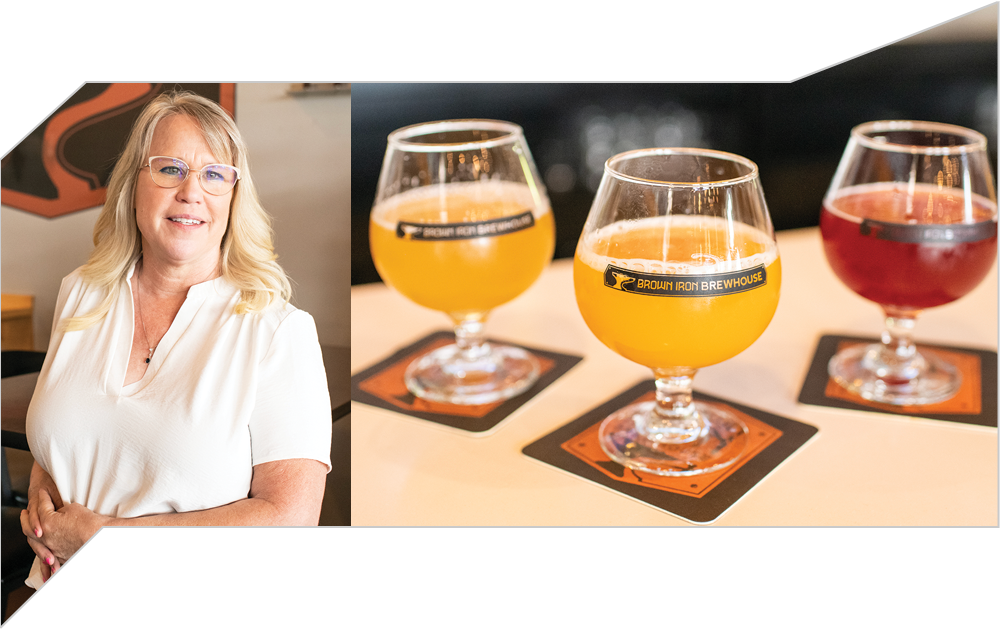 A Brew Plan
By Rebecca Calappi / Photograpy by Mike Ferdinande
Patti Eisenbraun has a passion for quality, craft beer. The former teacher took years of research and study before opening Brown Iron Brewhouse in Washington Township.
"When my husband, Tim, and I were about 35, we talked about what we want to do in life," recalled Eisenbraun. "We love craft beer, we love meeting people, we've always been a family that volunteers and donates and we've always loved great food. So, we put a 10-year plan in motion. By the time we were 45, we wanted to open our own brewery."
And they did.
In 2015, Brown Iron Brewhouse opened, modeled aft er authentic German beerhalls. Th e name "Brown Iron" comes from Eisenbraun's name—"Eisen" is German for "iron," and "braun" means "brown."
"We're a restaurant. I don't like to be called a bar at all. We specialize in American craft beer. We wanted to brew because we like to experiment with different flavor profiles. We want people to try other people's beers, too. We were one of the first in the area to off er sample pours," said Eisenbraun.
All the servers at Brown Iron Brewhouse are cicerone educated, which means they had special beer training. Servers make recommendations, food pairings and know the history and styles of beer, which is all brewed onsite by Ryan Shafer.
"Brown Iron brews all styles — from barrel-aged to light like Helles. The only style we do not brew is a sour because sours use wild yeast and once you introduce that into your brewhouse, it can take over the other yeast," explained Eisenbraun.
Customization is key. Eisenbraun says sourcing ingredients to try some-thing diff erent is what makes Brown Iron's beer list interesting. Don't be surprised when you see names such as Oreos, Marshmallow Fluff or Reese's Peanut Butter Cups,
"When we make a wheat beer with peaches, we use real peaches. We have the advantage of using a whole fruit or natural source," said Eisenbraun.
Quality is taken very seriously at Brown Iron Brewhouse and not just in the brews. In the from-scratch kitchen, Chef Deni Smiljanovski guides the smokehouse cuisine to perfection and takes special care of those with special food needs. All dressings and sauces are gluten free and made in-house as are many of the other menu favorites.
In addition to the Washington Township location, Brown Iron Brew-house opened in Royal Oak at 13 Mile Road and Woodward Avenue last year on March 1, 2020, right as the pandemic was about to hit town.
"This past year was very painful, especially for Royal Oak because of when we opened. We'll make it because of the people of Royal Oak supporting us," said Eisenbraun. "Royal Oak has been wonderful. Without the people of Royal Oak and Washington Township, we'd be nothing. I'm so grateful. It lets me live my dream."